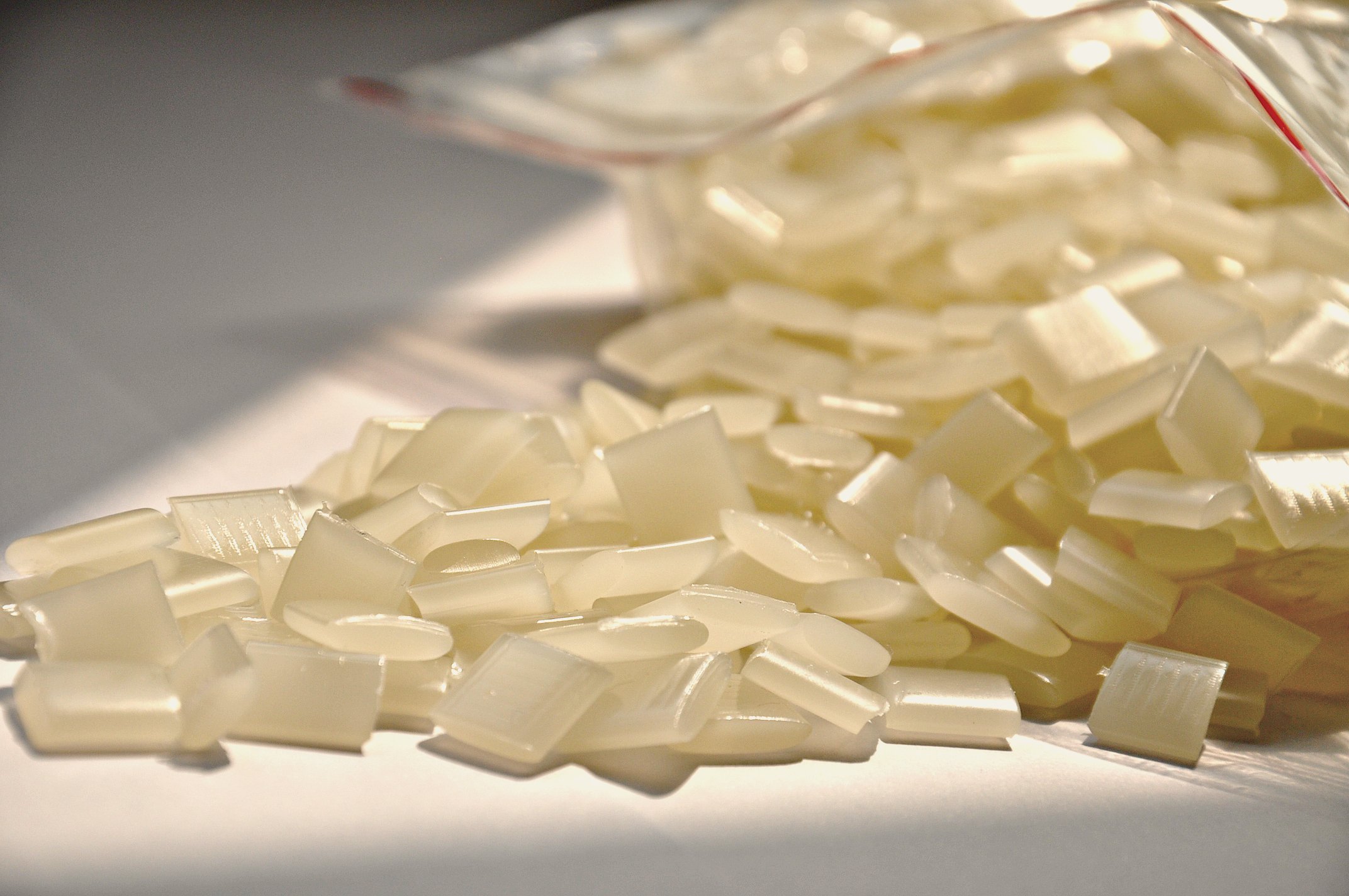 Hot melt adhesives are polymer based and are 100% solids, containing no solvents or water. Hot melt adhesives are also thermoplastic which means they are a solid at room temperature, but liquefy upon heating. The lack of water and solvents allow hot melts to attain peak bonding strength very quickly. The mechanical bonds they create means that the polymeric components in the hot melt wet out and penetrate the bonding surface prior to solidifying as they cool down again. When adhering to thermoplastic surfaces (plastics, polyolefin laminates and some coatings), bonding is similar to welding due to the high temperatures of the hot melt adhesive during application.
HOT MELT APPLICATIONS
Hot melts are used in a wide variety of industries, such as construction and electronics industries.
Metals, plastics and paper are a few of the materials to which hot melts work excellent with and provide great adhesion.
PHYSICAL PROPERTIES OF HOT MELT ADHESIVES
● Polymer- the component of hot melts that determines its strengths, toughness and flexibility
● Wax- waxes are selected for controlling the open time and set speed of the hot melt
● Antioxidant- they are added to improve the pot life (prevent charring and other oxidation reactions)
ADVANTAGES
● Aggressive bonds
● Reduced char
● Low/no odor
● No stringing/ Tailing
● Increased Mileage-Reduced viscosity gain
● Light in color
● Clean machining
MegaMelt 6118
PO hot-melt adhesive
Polyolefin hot-melt adhesive. Good adhesion for various substrates such as PP, PE, wood, PVC, galvanized sheet, steel etc.
This high performance adhesive, is mainly used in automotive trims, plastic parts, ground mat and automotive carpet.
Excellent bonding strength for non-polar substrates such as PP or PE plastic.
High softening point, high hot tack
Long open time
Excellent weather resistance
Environmental friendly, solvent-free
MegaMelt 9612
PSA hot-melt adhesive
Versatile pressure sensitive hot-melt adhesive based on thermoplastic rubber. This high performance adhesive is mainly used in automotive industry for automotive trims and the door of the car for waterproof sealing. Good bonding strength for automotive carpets, felts, sponge etc.
High stickiness, excellent initial adhesion
Excellent resistance to water and high temperature (110 C)
Short open time, fast setting, suitable for automatic and high working efficiency production.
Environmentally friendly (100% solid content)
MegaMelt PU29C
PUR hot-melt adhesive
Reactive hot-melt adhesive based on polyurethane (PURHM), designed for fast bonding. This adhesive is mainly used in automotive industry. Excellent bonding strength for painted metals, wood material, aluminium etc.
High initial strength and peel strength
Short open time
Excellent high temperature resistance and aging resistance
Solvent-free, environmentally friendly
MegaFilm 5520
Polyamine adhesive film
Polyamine hot-melt adhesive film with net structure.

This high performance adhesive is mainly used for fabric, non-woven, glass fiber, rigid PU etc.